Name Card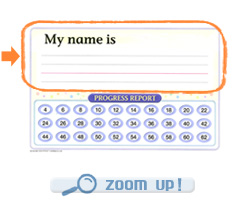 During the first lesson, have students write their name on the card.
Put the cards out at the beginning of each lesson and have students find their own name.
It confirms that students can read their own name in English.
You can determine where the students sit (in order to cut down on chatting and make sure that students pay attention when other students are talking).
Progress Report
レッスンのWarm Upで、宿題の達成度のチェックに使います。
Learning Worldシリーズでは毎回テキスト左ページのチャンツ、ダイアログを聴いてくる宿題が出ます。
偶数の数字(4,6,8,10,12,…,62)は テキスト左ページの番号を表しています。
生徒は前回のレッスンの宿題のテキスト左ページのチャンツ、ダイアログを 「暗誦」または「上手に読む」ことができたら、 ページ番号に色をぬるかシールを貼ります。
これにより、生徒の学習進度を、 年間通して視覚的に把握することができます。
ウラ・・・ Challenge Chart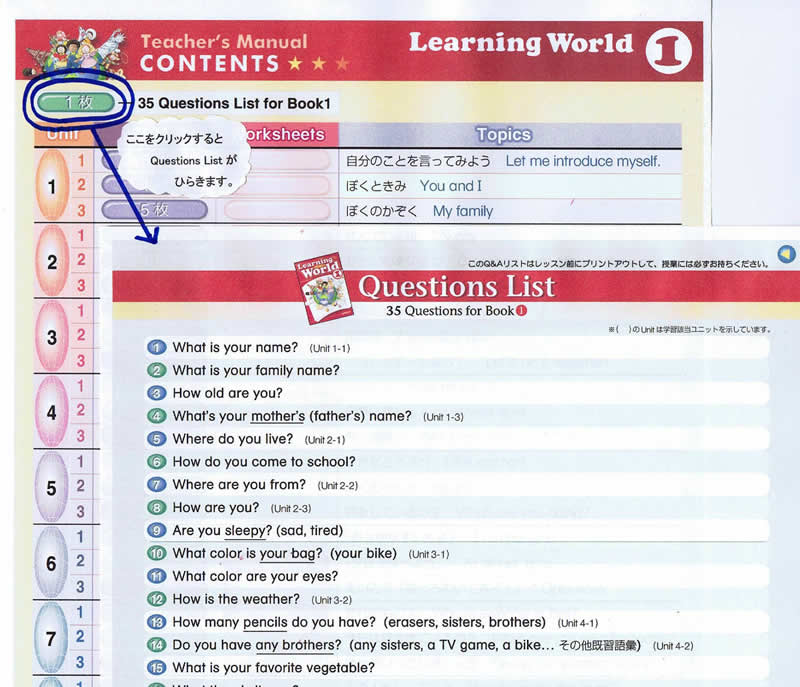 Learning World 1, 2, 3:
指導マニュアルCD-ROMから Questions Listをプリントアウトしておきます。
READY for Learning World:
æŒ‡å°Žæ›¸å·»é ­ã«Questions Listがあります。WEBでも公開しています。
>>こちらから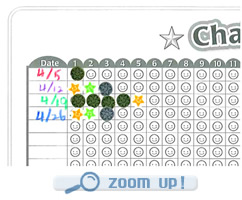 生徒はDateの欄に日付を書きます。
先生は、Questions List の中から質問を選んで、生徒に質問します。先生の質問に答えることができたら、ニコニコマークを1つぬることができます。(画像ではミニシールを貼っています)
※ç­"えã'‹ã ã'ã§ãªãã€è‡ªåˆ†ã§æ–‡ç« ã''プラã'¹ して言うことができたら、ニコニコマーク をもう1つぬることができます。
プログレスシートは回収して、 次のレッスンまで先生が保管しておきます。
4色ミニシール
は?
直径7㎜の小さなシール。
可愛い☆のスマイルデザインです。
たっぷり384片入り♪