â–¼

Coursebooks

â–¼

Textbooks

â–¼

Picture Books

â–¼

Big Books

â–¼

Songs & Chants

â–¼

Alphabet/Phonics

â–¼

Vocabulary/Grammar

â–¼

Software for Making Materials

â–¼

Readers

â–¼

Dictionaries

â–¼

Teaching Aids

â–¼

Puzzles

â–¼

DVDs

â–¼

Cards/Card Stock

â–¼

Lesson Plans

â–¼

Stickers & Stamps

â–¼

Classroom Items

â–¼

Books on English Education

â–¼

Japanese

â–¼

Babies/Toddlers/Preschool

â–¼

Application



Complete, detailed instructions for using Learning World 3 (2nd Edition)!
â–  Author: Mikiko Nakamoto
CD-ROM: 1 disc / Message to teachers (booklet)
CD-ROM contains bilingual teaching notes (English/Japanese)
※Printed version is not available for sale. "Class CD" (audio) and "Class Cards" (CD-ROM) sold separately.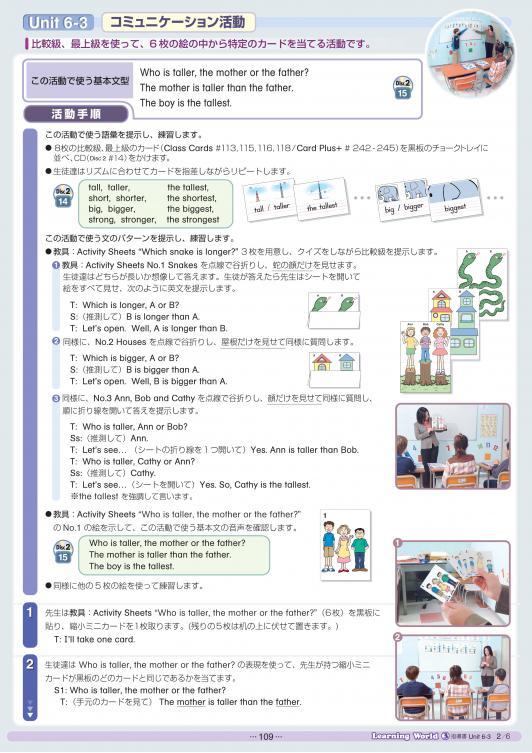 ↑How to use the Communication Activity is clearly described and shown with pictures to make it easy to understand and use in class.
(The above image is the Japanese version, but the CD-ROM contains the exact same material all in English.)
CD-ROM Contents: (PDF Files):
Teaching instructions (150 pages each in English and Japanese) / 33 printable worksheets (including notetaking sheets) / Questions List 3 pages / 4th week review lesson instructions 2 pages / Total text review and evaluation 2 pages
Computer Requirements:
Windows 2007 (or newer)
Internet Explorer (version 6.0 or newer)
Adobe Reader is required to view and print
You can install Adobe Reader here: http://get.adobe.com/jp/reader/
How to set up for Windows 10: Click here
CD-ROM is easy to use!
Put the CD-ROM into your computer
→ An icon will appear on your desktop
→ Click on the icon and choose either "Japanese" or "English"
→ Go to the appropriate unit
→ You can just view it on your computer or you can print it out
After printing them out, you can keep them in a clear file or ring binder.
For Macintosh users:
There is a Macintosh version available, but it is not sold individually.
Please buy the Windows version CD-ROM, and contact APRICOT to let us know that you would like the Mac version. We will ask you to send us the Windows version. As soon as we receive it, we will send you the Mac version.
(Please contact us before you send the Windows version, so we can more quickly process your replacement.)