â–¼

Coursebooks

â–¼

Textbooks

â–¼

Picture Books

â–¼

Big Books

â–¼

Songs & Chants

â–¼

Alphabet/Phonics

â–¼

Vocabulary/Grammar

â–¼

Software for Making Materials

â–¼

Readers

â–¼

Dictionaries

â–¼

Teaching Aids

â–¼

Puzzles

â–¼

DVDs

â–¼

Cards/Card Stock

â–¼

Lesson Plans

â–¼

Stickers & Stamps

â–¼

Classroom Items

â–¼

Books on English Education

â–¼

Japanese

â–¼

Babies/Toddlers/Preschool



The caterpillar's dream is to become a beautiful butterfly. But what color butterfly does the caterpillar want to be? "I want to be a … butterfly. I have to eat something …" What color will the butterfly be?
â–  Author: Mikiko Nakamoto
Size: slightly off A4 / 32 pages / full color / supplementary activity pages
With CD: English and Japanese narration, theme song "A Beautiful Butterfly", and supplementary song "Action Colors"
Theme: the concepts of beauty and self-affirmation
Language: colors, fruits
Main vocabulary & expressions: blue, yellow, red, pink, brown, green, purple, white, black, gray, orange, blueberry, banana, apple, peach, chesnut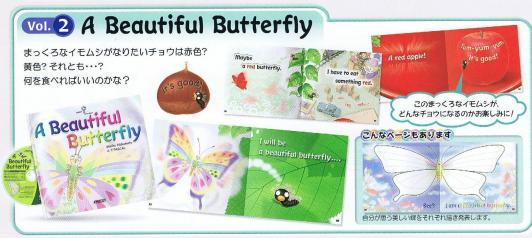 After reading the book, please use the accompanying workbook. Language used in the picture book is reinforced in the workbook.