â–¼

Coursebooks

â–¼

Textbooks

â–¼

Picture Books

â–¼

Big Books

â–¼

Songs & Chants

â–¼

Alphabet/Phonics

â–¼

Vocabulary/Grammar

â–¼

Software for Making Materials

â–¼

Readers

â–¼

Dictionaries

â–¼

Teaching Aids

â–¼

Puzzles

â–¼

DVDs

â–¼

Cards/Card Stock

â–¼

Lesson Plans

â–¼

Stickers & Stamps

â–¼

Classroom Items

â–¼

Books on English Education

â–¼

Japanese

â–¼

Babies/Toddlers/Preschool



The Student CD that goes with Learning World for Tomorrow!
Every student should have their own CD so they can listen to it for homework. The Student CD track numbers are written in the Student Book so students can easily follow along.
â–  Author: Mikiko Nakamoto
Audio CD: 1 disc / CD time: 60 minutes, 18 seconds / 77 tracks
77 tracks include:
4 dialogues* / 9 passages* / 5 stories & poems* / 1 letter* / 7 chants / 4 songs
*Also includes a "repeat" version of the starred audio so students can practice.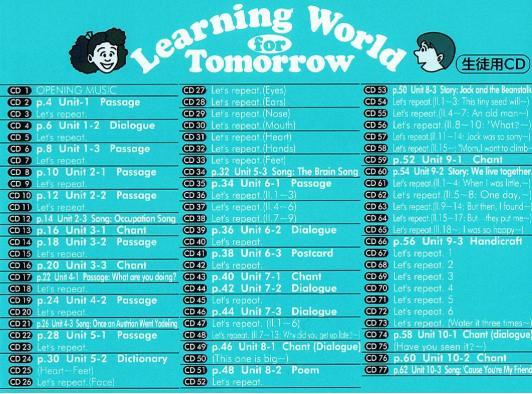 Songs:
Occupation song
Once an Austrian Went Yodeling 
The Brain song
'Cause You're My Friend
Stories:
Jack and the Beanstalk
We live together.
I was little tree in spring…
And others…
Fun Topics of Tomorrow's Audio ♪
Dialogue persuading Dad to let you go camping with friends
Chant where Mom is angry and scolding because of chores not done
Explaining to the teacher why you are late
If you became mayor, what would you do/say
When you grow up, where do you want to go?
Chants and dialogues to bargain with Mom and friends
What can we do about our mountains of garbage?
And other fun topics to allow children to explore and consider the world around them, and build up their self-esteem.