â–¼

Coursebooks

â–¼

Textbooks

â–¼

Picture Books

â–¼

Big Books

â–¼

Songs & Chants

â–¼

Alphabet/Phonics

â–¼

Vocabulary/Grammar

â–¼

Software for Making Materials

â–¼

Readers

â–¼

Dictionaries

â–¼

Teaching Aids

â–¼

Puzzles

â–¼

DVDs

â–¼

Cards/Card Stock

â–¼

Lesson Plans

â–¼

Stickers & Stamps

â–¼

Classroom Items

â–¼

Books on English Education

â–¼

Japanese

â–¼

Babies/Toddlers/Preschool

â–¼

Application



An open field in different seasons… it looks like no one is there. But after looking closer, you can see that there are many small creatures who make their home in the field. "Where?" "I'm here. Behind a leaf." What little creature's home is it?
â–  Author: Mikiko Nakamoto
Size: slightly off A4 / 32 pages / full color / supplementary activity pages
With CD: English and Japanese narration, theme song "Our Sweet Home", supplementary song "The Weather Song"
Theme: to nurture and care for nature, down to the smallest creatures
Language: prepositions of place, weather, seasons
Main vocabulary & expressions: Where? Is anybody there? on a flower, behind a leaf, between vines, in a puddle, by a stone, under the ground…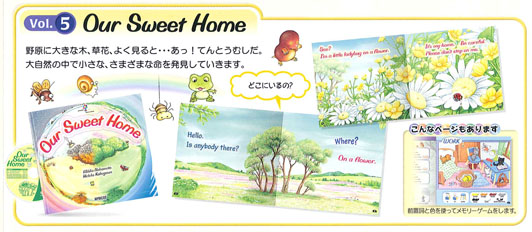 After reading the book, please use the accompanying workbook. Language used in the picture book is reinforced in the workbook.