â–¼

Coursebooks

â–¼

Textbooks

â–¼

Picture Books

â–¼

Big Books

â–¼

Songs & Chants

â–¼

Alphabet/Phonics

â–¼

Vocabulary/Grammar

â–¼

Software for Making Materials

â–¼

Readers

â–¼

Dictionaries

â–¼

Teaching Aids

â–¼

Puzzles

â–¼

DVDs

â–¼

Cards/Card Stock

â–¼

Lesson Plans

â–¼

Stickers & Stamps

â–¼

Classroom Items

â–¼

Books on English Education

â–¼

Japanese

â–¼

Babies/Toddlers/Preschool

â–¼

Application



Happy, sad, brave, timid… We all feel differently at different times and in different situations. It starts off with Trissa, a 7-year-old girl, introducing herself and her family. Then she talks about how she feels at different times. How about you? How do you feel? A great example of a self-introduction that students can follow.
For:
Recommended for elementary school students who have studied English for at least a year.
â–  Author: Mikiko Nakamoto
Size: slightly off A4 / 32 pages / full color / supplementary activity pages
With CD: English and Japanese narration, theme song "Me Myself", supplementary songs "The Feeling Song" and "This is My Family"
Theme: to recognize the different aspects of one's personality and self-affirmation
Language: self introduction, introduce family, adjectives
Main vocabulary & expressions: My name is Trissa. My family name is Brown. I have a father, a mother, I live in… I go to… Sometimes, I am…
happy / sad, kind / rude, pretty / ugly, clean / dirty…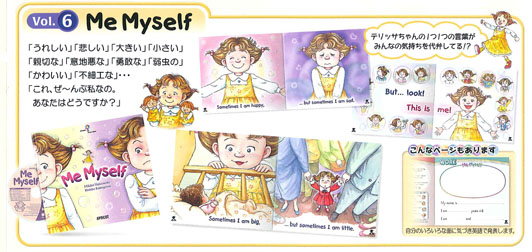 After reading the book, please use the accompanying workbook. Language used in the picture book is reinforced in the workbook.