Latest
Category
Profile
I have been teaching English to kids in Japan for more than 20 years: public elementary schools in Tokyo for 11 years, and Hello Kids Komazawa for the last 9. For 3 years I have been teaching weekly lessons to students at Tsutsujigaoka Kindergarten. As I tend to stay at the same workplace for a long time, I've been able to see the long-term results of my work. Being able to really see children's English communication ability grow has been very rewarding. I mainly use APRICOT materials in my classroom. They best suit my goal of having students use as much English as possible while developing confidence and self-esteem. I enjoy teaching development, and I love discussing English education with other teachers!
8. Dinosaurs!
I have a fairly new student in one of my upper elementary classes. He is quite shy, and is rarely the first to speak out in class, which is understandable given that his two classmates have four years English experience. Under this condition, opportunities to have him feel success with English are few and far between

This week, we had the AJ Picture Dictionary open to page 40 & 41 – the dinosaur museum page.
After some general interaction with the students on the contents of these pages, I had the students listen to the vocabulary CD and indicate with their finger on the page the vocabulary they heard: "teeth", "fins", "a fossil" etc.
I then gave the students a blank A4 paper and asked them to fold it into 8 boxes. On their shared desk I placed a dinosaur picture book: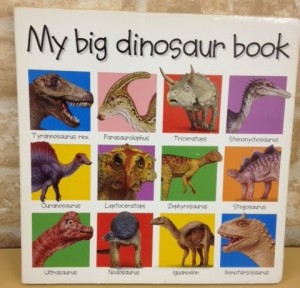 We happen to have this book in our classroom. Googling "dinosaur" and clicking "image" on a class PC or Tablet would be equally effective.
With this book I gave the students a written instruction: "Draw a dinosaur with a long neck". The students read the task together then searched for a dinosaur with a long neck and drew it on their paper in Box 1. Other instructions followed: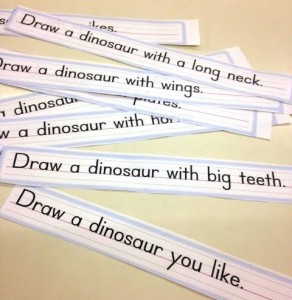 Of course, difficult vocabulary was referred back to AJ, pages 40 and 41.
In the end, the students had drawn 8 dinosaurs on their paper. Below is one student's drawings: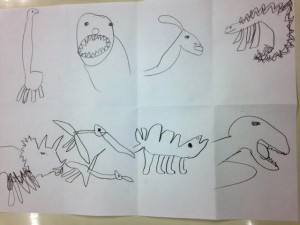 ←Click to enlarge
Pretty good, aren't they? Certainly much better than my drawing!
Now, below is the new student's drawings: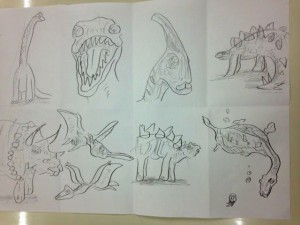 ←Click to enlarge
Wow, right?! None of us knew that he was so artistically talented! He looked very happy with our outpouring of surprise and admiration.
The lesson may still not necessarily have added confidence to his use of English, but it did add to his feeling of self-esteem
!