Latest
Category
Profile
I have been teaching English to kids in Japan for more than 20 years: public elementary schools in Tokyo for 11 years, and Hello Kids Komazawa for the last 9. For 3 years I have been teaching weekly lessons to students at Tsutsujigaoka Kindergarten. As I tend to stay at the same workplace for a long time, I've been able to see the long-term results of my work. Being able to really see children's English communication ability grow has been very rewarding. I mainly use APRICOT materials in my classroom. They best suit my goal of having students use as much English as possible while developing confidence and self-esteem. I enjoy teaching development, and I love discussing English education with other teachers!
12. NICE CREATIVE WRITING!
Can I share with you this piece of writing by one of my students? 
She is in junior high 2nd grade, and has been studying with me for 50 minutes a week since she was in 1st grade elementary school. Her first textbook was WELCOME to Learning World Blue. She has since completed every textbook in the LEARNING WORLD Series.
Soon after the winter break I gave her a writing assignment for homework. This is what she produced:
↓
2015: Â  5/10
I am not very satisfied with 2015 because I was injured many times. So I couldn't practice basketball a lot.
Furthermore I couldn't study a lot. So I wasn't satisfied my test score.
However, I worked hard school committee activities. I proud myself about it.
My goal for 2016 is to laugh a lot than last year because this year will be more busy than last year. So I think I have to laugh a lot to enjoy this year.
Furthermore, I willn't the absolute injury this year!
Yes, it's clear that her writing is not free of language errors. But to be honest I was quite happy with it, and surprised at its quality.
The writing of a reflection on 2015 and goals for this year, together with the vocabulary "satisfied", "furthermore" and "however" was my idea, but everything else was hers.
■Step 1: I input the meaning of "satisfied" together with the idea of a score:
"I am totally satisfied"         → 10/10
"I am very satisfied"         → 9/10
"I am satisfied"         → 7/10
"I am not very satisfied"     → 5/10
"I am not satisfied"         → 4/10
"I am not satisfied at all"     → 2/10
■Step 2: On a piece of paper I asked her to write "2015:" and then give it a score.
■Step 3: I gave her the following dictation:
"I am not very satisfied with 2015 because



.
Furthermore

.
However
.
My goal for 2016 is

.
Furthermore
…"
■Step 4: On completion of the dictation I explained that "furthermore" means "and". And I explained that "however" means "but".
■Step 5: I asked her to complete it for homework.
The combination of her junior high grammar knowledge with the structure provided by me helped put her ideas onto paper. By all means, please use this idea as an end-of-year activity, or even an end-of-term activity.
Creative writing is definitely facilitated by experience in reading. These two areas of English education will be dealt with in depth at this year's LEARNING WORLD Workshops, scheduled for Feb.28th (Osaka), Mar.6th (Nagoya) and Mar.13th (Tokyo).
I really hope to see you there!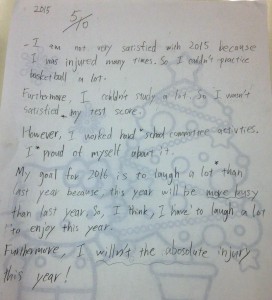 ←Click to enlarge
★★Learning World WORKSHOP INFORMATION⇒⇒Click here!