â–¼

Coursebooks

â–¼

Textbooks

â–¼

Picture Books

â–¼

Big Books

â–¼

Songs & Chants

â–¼

Alphabet/Phonics

â–¼

Vocabulary/Grammar

â–¼

Software for Making Materials

â–¼

Readers

â–¼

Dictionaries

â–¼

Teaching Aids

â–¼

Puzzles

â–¼

DVDs

â–¼

Cards/Card Stock

â–¼

Lesson Plans

â–¼

Stickers & Stamps

â–¼

Classroom Items

â–¼

Books on English Education

â–¼

Japanese

â–¼

Babies/Toddlers/Preschool

â–¼

Application



Amazing little creatures… Tiny Boppers can fly, jump, dance, march… Count them as they "bop" all over the place!
â–  Author: Mikiko Nakamoto
Size: slightly off A4 / 32 pages / full color / supplementary activity pages
With CD: English and Japanese narration, supplementary song Ten Little Boppers, clapping activity (listen to the clapping rhythm and try to copy it while counting the claps)
Theme:Â Have fun with English expressions
Language: Numbers, present continuous verbs
Main vocabulary & expressions: numbers 0~10, many
sleeping, hopping, jumping, falling, flying, swinging, rolling, standing, running, marching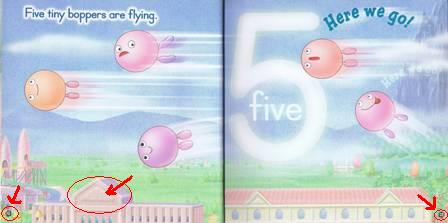 After reading the book, please use the accompanying workbook (recommended for students who have studied English for 2 years, or are 2nd grade or older)
Language used in the picture book is reinforced in the workbook.
One-point Advice
How to use "Tiny Boppers" in class:
(Tiny Boppers pp.12-13)
T: How Many Boppers?
S: Five!
This answer comes to kids quickly, but if you look closer, there are more hiding: in the roof, around the page numbers… There are actually 12 Tiny Boppers on the pages! Kids think finding the hidden Boppers is great fun.