â–¼

Coursebooks

â–¼

Textbooks

â–¼

Picture Books

â–¼

Big Books

â–¼

Songs & Chants

â–¼

Alphabet/Phonics

â–¼

Vocabulary/Grammar

â–¼

Software for Making Materials

â–¼

Readers

â–¼

Dictionaries

â–¼

Teaching Aids

â–¼

Puzzles

â–¼

DVDs

â–¼

Cards/Card Stock

â–¼

Lesson Plans

â–¼

Stickers & Stamps

â–¼

Classroom Items

â–¼

Books on English Education

â–¼

Japanese

â–¼

Babies/Toddlers/Preschool

â–¼

Application



Don't just read the picture book and be done with it! This workbook has activities so you and your students can get more out of the picture book. This workbook goes with Vol.10 What's this?. It covers adjectives, and the question/answer pattern for the question "What's this?". A great resource so students can have more fun with the picture book content and practice using the language.
For:
Recommended for elementary school students who have studied English for at least a year.
â–  Author: Mikiko Nakamoto
Size: slightly off A4 / 16 pages / Black & white
Workbook first half: activities to build skills in English
Workbook second half: The story sentences for students to practice writing and saying
Supplement: coloring page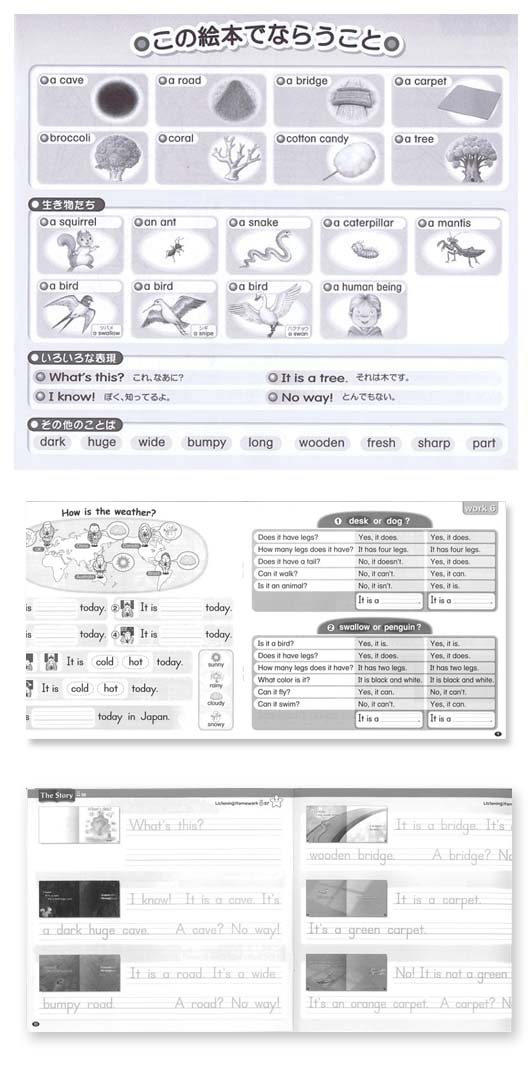 Can also use for listening/speaking practice!
Go over the sentences in the second half of the workbook together in class. Have students trace the sentences.
At home, students look at the sentences and listen the the Listening Homework CD (sold separately). They should listen and repeat the sentences.
During the next lesson, students can read the story out loud.
If they can read the story well, let them color in the ☆ on that page.